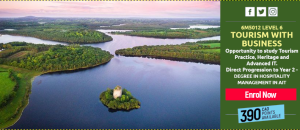 Tourism with Business 6M5012
Award Title 
QQI Level 6 Tourism with Business 6M5012
Aim
The aim of this programme is to prepare students to work in the tourism and related industries. The modules enable knowledge of tourism practice, heritage and advanced IT and business skills. At level 6 there is also a focus on business management that includes human resources, finance, customer service and economics.
Entry Requirements
Any QQI Level 5 Certificate (no specific module requirements)
Course Content
| | |
| --- | --- |
| Tourism Policy & Practice | 6N2106 |
| Business Management | 6N4310 |
| Finance | 6N4165 |
| Applied Economics | 6N4091 |
| Customer Service | 6N0697 |
| Work Experience | 6N1946 |
| Marketing Management | 6N4188 |
| Spreadsheets | 6N4089 |
| | |

International Work Experience
Students have the opportunity to participate in a three week international work placement in Tenerife in Oct/Feb as part of an Erasmus + Programme.   For all other students there is a two week work placement requirement in a tourism related setting.
Progression to Employment
With the imminent arrival of Center Parcs, tourism related industries are expected to grow in County Longford. Reception, customer service, tourist information, accommodation, bookings, accounts and concierge are all areas that graduates will be equipped to work in. The business skills and knowledge will also prepare students with entrepreneurial ambitions for the increasing tourist market and customer base in the midlands.
Graduates of this course have secured employment in areas such as
Reception
Customer Service
Tourist Information
Accommodation
Accounts & Bookings
Marketing
Management
Administration
Progression to Degree Programmes
This course offers progression to Year 2 of the following in AIT:
Degree in Hospitality Management
Fees
Student Services Registration Fee: €150
DES Programme Participation Contribution: €200
QQI Examination Fees: €80
Total Course Cost *€430
*Due to exemptions Total Costs for the following groups apply:
(1) Medical Card Holders – €150 (2) BTEA recipients- €150 (3) Grant recipients – €230
For more information
Course Coordinator – Claire Prunty
Email: cprunty.tcl@lwetb.ie
Course Details
Tourism Policy & Practice 6N2106 – Identify the main markets for Irish tourism and the motivations of tourists. Explore the concept of sustainable tourism. Research the Irish tourism product in order to become with the skills to provide visitors with meaningful information and guidance. Become familiar with major Irish and International tourism related products
Business Management 6N4310 – understand the role and function of management in a business environment. Gain a detailed picture of the management of planning, organising and controlling. Develop effective management skills such as leadership and communications.
Assignments 40% & Project 60%
Finance 6N4165 – Learn to understand the financial statements of an organisation by preparing a detailed financial report using key accounting ratios. Understand costing systems such as absorption and marginal costing. Prepare financial budgets and evaluate capital expenditure projects in order to provide management with information for decision making.
Examination 60% Assignment 40%
Applied Economics 6N4091– Identify the main characteristics of perfect competition and monopoly. Identify market structures. Understand gross domestic product, research the main instruments of fiscal and monetary policy.
Assignments – 50 % (Two assignments, with a weighting of 25% each)
Examination – theory 50%
Customer Service 6N0697 – is designed to enable the learner gain a detailed understanding of the customer service function within an organisation and to facilitate the development of effective customer service skills. The programme is suitable for persons already working in a customer services role who would like a recognised qualification to support their practical experience.
Portfolio/Collection of Work 50% & Skills Demonstration 50%
Spreadsheets 6N4089 –Develop an advanced working knowledge using multiple worksheets, formulas and functions in a Spreadsheet application for many practical uses at work and at home.
Project 60% & Practical Examination 40%
Work Experience 6N1946 – Present a detailed personal skills audit and career plan including personal goals, action points, development opportunities and career paths. Demonstrate supervisory skills and capacities in the workplace. Participate effectively in a work experience placement for a minimum of 60 hours to gain experience/insight into their chosen vocational area.
            Portfolio/Collection of Work 60% & Skills Demonstration 40%
Marketing Management 6N4188
The purpose of this award is to enable the learner to acquire the knowledge, skill and competence to analyse, evaluate and critically apply marketing management principles and practice to a range of contexts working independently and or taking responsibility for the work of others and or to progress to higher education and training.
Project 60% & Theory Examination 40%