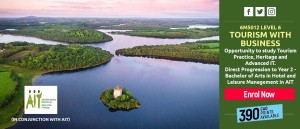 Tourism with Business  –  With Center Parcs opening in County Longford during Summer 2019 and Failte Ireland continuing their Ireland's Hidden Heartlands campaign, tourism is set to be one of the main employers in the region. Longford College of Further Education are offering a QQI level 5 Tourism with Business course for school leavers to make them ready for jobs in the tourism sector. Alternatively, students can use the 390 CAO points from the course for college entry or they can progress to  our level 6 tourism course and gain direct entry from that into year 2 of the Hospitality degree or the Business degree in Athlone Institute of Technology. With the rising cost of student accommodation, it makes sense to start a degree locally in Longford College of Further Education.  For more information go to  www.longfordcfe.com or come along to our open day on March 6th in the college.
Award Title 
QQI Level 6 Tourism with Business 6M5012
Aim
The aim of this programme is to prepare students to work in the tourism and related industries. The modules enable knowledge of tourism practice, heritage and advanced IT and business skills. At level 6 there is also a focus on business management that includes human resources, finance, customer service and economics.
Entry Requirements
Any QQI Level 5 Certificate (no specific module requirements).
Course Content
| | |
| --- | --- |
| Tourism Policy & Practice | 6N2106 |
| Business Management | 6N4310 |
| Finance | 6N4165 |
| Applied Economics | 6N4091 |
| Customer Service | 6N0697 |
| Work Experience | 6N1946 |
| Marketing Management | 6N4188 |
| Spreadsheets | 6N4089 |
| | |

International Work Experience
Students have the opportunity to participate in a three week international work placement in Tenerife in Oct/Feb as part of an Erasmus + Programme.   For all other students there is a two week work placement requirement in a tourism related setting.
Progression to Employment
With the imminent arrival of Center Parcs, tourism related industries are expected to grow in County Longford. Reception, customer service, tourist information, accommodation, bookings, accounts and concierge are all areas that graduates will be equipped to work in. The business skills and knowledge will also prepare students with entrepreneurial ambitions for the increasing tourist market and customer base in the midlands.
Graduates of this course have secured employment in areas such as
Reception
Customer Service
Tourist Information
Accommodation
Accounts & Bookings
Marketing
Management
Administration
Progression to Degree Programmes
This course offers progression to Year 2 of the following in AIT:
Bachelor of Arts in Hotel and Leisure Management – AL761
Fees
Student Services Registration Fee: €150
DES Programme Participation Contribution: €200
QQI Examination Fees: €80
Total Course Cost *€430
*Due to exemptions Total Costs for the following groups apply:
(1) Medical Card Holders – €150 (2) BTEA recipients- €150 (3) Grant recipients – €230
For more information
Course Coordinator – Claire Prunty
Email: cprunty.tcl@lwetb.ie