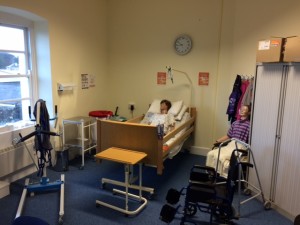 Health Care Support 5M4339 Level 5 
Certification: Health Care Support – QQI Level 5 (5M4339)
Overview
This course is designed to prepare students to work as a healthcare assistant in a variety of settings such as nursing homes, community settings and hospitals. There are practical and academic components in this course including skills demonstrations, assignments, exams and project work.
Duration
1 year (Academic) Full Time
Course Outline
5N0758 Care Support
5N2770 Care Skills
5N3769 Palliative Care Support
Activities of Patient Living
5N1794 Safety and Health at Work
5N2706 Care of the Older Person
5N0690 Communication
5N1356 Work Experience
Patient Moving and Handling
Entry Level
Leaving Certificate or Leaving Certificate Applied or LCVP or FETAC/QQI Level 4 Award. Equal consideration will be given to mature applicants (those aged over 23) who do not meet these entry requirements. Students will need to undergo the Garda Vetting process.
Work Experience
External work experience is a vital part of this course. Learners are required to secure a minimum of 80 hours work experience.
Practical placements include:
Nursing Homes
Day care centres
Specialist care settings
Hospital settings
Costing for Course:
Registration fee: €150 Non-refundable
PLC Government Levy: €200 – Exempt if student has evidence of Back to Education or SUSI Grant or Medical Card
Uniforms: €25 (Approx) – Paid via website www.happythreads.ie discount code will be given when course commences
Name Badges: €5.00 – Edit Print, Longford
Manual Handling (Mandatory) €30 (approx.) depending on trainer
First Aid/CPR: €100 (approx.) depending on trainer
Exam/Certificate Fee: €50
*COSTS & COURSE DETAILS ARE SUBJECT TO CHANGE.
Career Opportunities and Academic Progression
Learners who successfully complete the course will have many professional and academic opportunities.
These include pursuing the QQI Level 6 programme in Social Care or QQI Level 6 Early Childhood Care and Education and other programmes in the healthcare field for e.g. health promotion. Information about courses in the Healthcare field can be obtained from the Higher Education Institution literature/website. Other QQI Level 5 Modules can also be pursued e.g. Maternity Care Support or Operating Department Care Skills.
Other courses include:
Level 8 Applied Psychology, Level 8 Social Care Practice and Level 8 Applied Social Studies in Social Care – Athlone IT.
BA (Hons) Social Care Practice – Sligo IT
Career opportunities can include working in Nursing Homes, Specialist Care Settings e.g. hospices, Hospital Settings.
Contact: Nessa Griffin-Heslin (Course Co-ordinator, Nurse Tutor) ngriffin.tcl@lwetb.ie