Guide for Learners and Applicants – Applying Online for a Course Using www.fetchcourses.ie
Before you begin, you will need your PPSN, your type of Social Welfare Payment and your Medical Card number (if relevant).
Create a new email address or open your existing email in browser.
Keep your email open and open a new tab in the browser and type in fetchcourses.ie
If you are already registered on fetchcourses.ie, sign in with your email address and password then proceed to step 7.

If you are not yet registered on fetchcourses.ie, click 'Register'.
Fill in all required details, choose a password you will remember and keep it safe, read and accept Terms and Conditions and follow the instructions on the captcha. Click 'Register'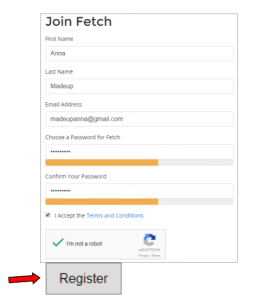 You will then need to go to your email and click the link sent from 'noreply-fetchcourses@solas.ie' to confirm your email. If you cannot find the email, check in your 'Clutter' or 'Other' folder.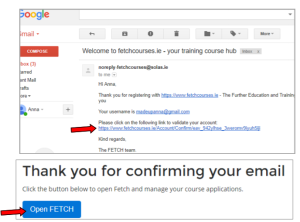 This will bring you to your own Fetch dashboard/screen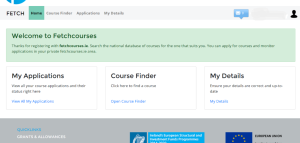 Select My Details tab and click the Edit button, fill in all required information.

It is important to fill in your details in each tab – by clicking on 'Social Welfare', 'Education' and 'My Status'. The Edit button should be clicked to enter your details, it is important to click 'Save' in each section before moving to the next. The 'Further Details' will not be required until you start on the course, and it is optional to complete. If you have already started the course, you can fill in these details now if you choose to.

If you wish to Apply for a Course, click Course Finder and type in the PLSS National Course Calendar code of course you are looking for (your Tutor or College/Centre will have this information), then select search. If you do not know the course code, you can search by title or location or using the Advanced Search option.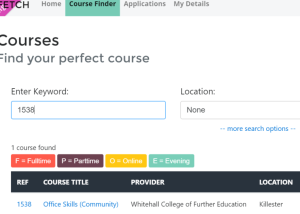 Select course from list, read the information provided then click on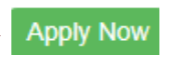 You will be required to fill in all fields marked with asterisk * to complete the application process if you have not already filled in these fields. Check that the information is accurate and Apply.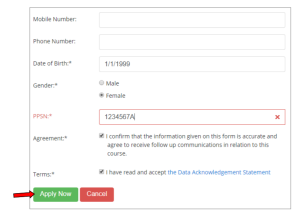 When completed sign out of Fetch account (top right-hand corner) and sign out of your email.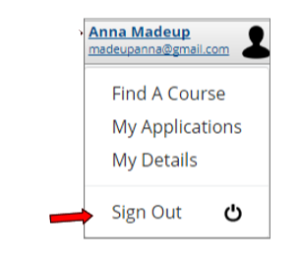 Once the College/Centre has accepted and verified your application, you can check the status of your application online by logging into your Fetch account and clicking 'View All My Applications'.
You can log into www.fetchcourses.ie anytime in the future to update your details, apply for other courses or check the status of course applications.