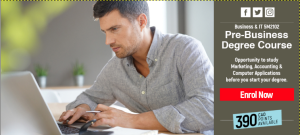 Course Title
Pre-Business Degree Course
Award
Level 5 Business Studies 5M2102
Duration
This is a full-time one-year course and runs from September to May.
Course Description
This course is designed to help students develop the essential accounting and financial knowledge and skills which form the basis for a career in industry, commerce or the public service. The course comprises both theoretical and practical modules, and students will gain an understanding of both manual and integrated accounting software. There is a focus in this course on the functional areas of accounting, finance and business and the factors which influence business success.
Entry Requirements
Leaving Certificate or Leaving Certificate Applied or LCVP or QQI Level 4 Award. Equal consideration will be given to mature applicants (those aged over 23) who do not meet these entry requirements.
Career Opportunities
With this course, students can go on to pursue a career in such diverse areas such as
Accounting
Finance
Marketing and IT
Customer Service & Retail
Course Content
| | |
| --- | --- |
| Accounting Manual and Computerised | 5N1348 |
| Bookkeeping Manual & Computerised | 5N1354 |
| Word Processing | 5N1400 |
| Customer Service | 5N0972 |
| Work Experience | 5N1356 |
| Database Methods | 5N0783 |
| Spreadsheets Methods | 5N1977 |
| Business Administration Skills | 5N1358 |

Progression Opportunities
All business students will have the opportunity to take part in our Erasmus + Programme which will see successful candidates spend three weeks in Tenerife working in reception & customer service roles. For all other students a minimum of ten days or 60 hours work experience placement must be completed in an organisation relevant to your chosen course of study.International Work Placement Opportunity
At Longford College of Further Education: Graduates of this course may progress to the QQI Level 6 Advanced Certificate in Business
Elsewhere: Graduates of this course are eligible to apply through the CAO and/or the Higher Education Links Scheme for entry to year one of a range of higher certificate and degree programmes at Institutes of Technology and Universities (please check with the particular institution regarding local eligibility requirements).
Level 8 Bachelor of Business in AIT – AL850
Higher Certificate in Business in AIT – AL650
Bachelor of Business in Business Administration SIT – SG535
Fees
Student Services Registration Fee: €180
DES Programme Participation Contribution: €200
QQI Examination Fees: €50
Total Course Cost *€430
*Due to exemptions Total Costs for the following groups apply:
(1) Medical Card Holders – €180 (2) BTEA recipients- €180 (3) Grant recipients – €230
For more information
Course Coordinator – Helen Johnston
Email: hjohnston.tcl@lwetb.ie
Detailed Course Outline – 8 Modules
Accounting Manual and Computerised 5N1348
Accounting principles, standards and concepts
Accounting terms i.e. assets and liabilities, debtors and creditors, shareholders, dividends etc. The Auditing process, types and purpose of forecasts and budgets
Computer systems in an accounts environment and the application of integrated accounts systems (IAS) in the preparation of financial statements
Accounting procedures to include processing adjustments, producing final accounts and results, ratios and completing budgets and forecasts
File management
Assignments 60% & Examination 40%
Bookkeeping Manual & Computerised Content
Bookkeeping Records Manual & Computerised
Bank Records
Invoices
Credit Notes
Petty Cash Vouchers
Trial Balance
VAT return
Project 50% Examination – Practical 50%
Word Processing Content
Students will engage in practical learning in the most current up to date Microsoft Office Word Programme available, to include:
Formatting and Editing documents using a broad range of word processing techniques.
Create and use Word templates and Word Documents
Become Proficient in file Management and use of Mail Merge
Work on a range of common everyday Documents
Learn how to produce documents to include, Clipart, Image Display, Tables and watermarks
Assignment 20%, Exam (x 2) 40% each
Customer Service Content
Principles of customer service within a range of environments
Key features of good customer service, to include distinguishing between different kinds of customers, making a
good first impression, meeting customer needs, catering for diversity and disability, understanding and responding to customer perceptions
Standards or rating system by which customer service is developed and measured in an industry-specific area
Consumer legislation and the functions of associated regulatory organisations providing customer protection, representation and redress
How customer service enhances organisational effectiveness and success, to include practical examples of
organisations with good customer care
Collection of Work 50%, Skills Demonstration 50%
Work Experience Content
Students studying Work Experience Level 5 will do the following:
Examine work organisations and personal career opportunities in a particular vocational area, to include consideration of work-related issues and needs.
Summarise the basic rights and responsibilities of employees and employers in a particular work, organisational or institutional context, to include health, safety and welfare at work, equality legislation, union representation and regulations relating to pay.
Present relevant work experience material, to include a Curriculum Vitae or personal statement, letter of application, evidence of job-finding skills, skills checklist, statement of learning goals, contractual arrangements.
Participate effectively in a work experience placement for a minimum of 60 hours to gain experience/insight into their chosen vocational area.
Collection of Work – 60%, Skills Demonstration – 40%
Database Methods Content
Studying this module will allow student to become proficient in the most up to date version of Microsoft Assess. Content includes:
Designing and building databases
Designing user friendly data input screen which incorporate company logos and details
Construct a form to facilitate data entry into a database
Create reports which can be used to present selected information from a database in a format suitable for e-mailing or printing
Improve personal performance by using additional resources such as the help facility to solve familiar and unfamiliar database problems.
Assessment Criteria: Exam 50%, Practical Assignment 50%
Spreadsheets Methods Content
Investigate a range of common uses for spreadsheets
Explore key spreadsheet elements including cells, cell references, numeric, alpha, and alphanumeric data, formulae, functions, graphs and macros
Use spreadsheet design features involving data and cell formatting techniques which enhance understanding and legibility
Produce a spreadsheet, with minimal supervision, that meets a simple design specification and is fit for purpose
Demonstrate personal initiative and resourcefulness in editing and amending spreadsheets to ensure they are fit for purpose
Assessment Criteria: Exam 50%, Practical Assignment 50%