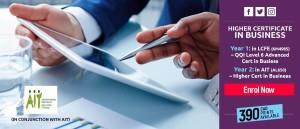 Certification
QQI Level 6 Higher Certificate in Business 6M4985                
Duration
2 years (Year 1 in LCFE, year 2 in AIT)
Award Title 
Higher Certificate in Business (in conjunction with AIT AL650)
QQI Code: QQI Level 6 Advanced Certificate in Business 6M4985
Course Duration: 2 Years (Year 1 in Longford College of Further Education, Year 2 in AIT)
Course Description
This is a two year full-time, Higher Certificate Course, which will give you the business knowledge and skills to form the basis of a career in industry, commerce or the public service. You will gain an understanding of the functional areas of business and of the factors which influence business success. The second year of the course is undertaken in Athlone Institute of Technology (AIT).
Entry Requirements
Any QQI Level 5 Certificate (no specific module requirements).
Course Content
Year 1 (at Longford College of Further Education)
| | |
| --- | --- |
| Business Management | 6N4310 |
| Finance | 6N4165 |
| Applied Economics | 6N4091 |
| Customer Service | 6N0697 |
| Work Experience | 6N1946 |
| Marketing Management | 6N4188 |
| Spreadsheets | 6N4089 |
| Conflict Management | 6N2775 |

Year 2 (at AIT)
Human Resource Management
Management Accounting
Marketing Management in a Digital Age
IT and Computer Applications
One elective module from the following options:
Banking – Financial Accounting – Applied Economics – International Economics
E-Business – Services Marketing – Operations and Supply Chain Management
Applied Entrepreneurship – French, German, Spanish ab initio.
Career Opportunities
Graduates of this course have secured employment in areas such as
Accounting
Banking
Insurance
Marketing
Management
Administration
Retail services and computing
Progression
Holders of this Higher Certificate are eligible to apply to join the Bachelor of Business (Level 7) at Athlone Institute of Technology. Alternatively they may avail of the exemptions granted by one of the professional bodies and apply for a full-time accountancy studies course at Athlone Institute of Technology.
Fees Year 1
Student Services Registration Fee: €150
DES Programme Participation Contribution: €200
QQI Examination Fees: €80
Total Course Cost *€430
*Due to exemptions Total Costs for the following groups apply:
(1) Medical Card Holders – €150 (2) BTEA recipients- €150 (3) Grant recipients – €230
For more information
Course Coordinator – Claire Prunty
Email: cprunty.tcl@lwetb.ie