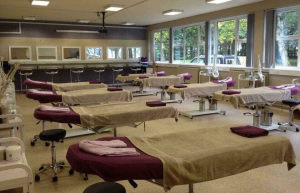 Beauty Therapy – Aesthetics Department
Certification: CIBTAC (The Confederation of International Beauty Therapy and Cosmetology) Aesthetics Diploma. ITEC (International Therapy Examination Council) Beauty Specialist Diploma & QQI Level 5 Skin Care, Eye Treatments & Make up 5N3466, Manicure, Pedicure & Waxing 5N 3467 &Work Experience 5N1356
Overview
Beauty therapy is a thriving profession and our beauty students here at LCFE are trained to the highest standard. Not only will you learn the theory and practice behind beauty treatments, you will also learn the standard of professionalism the industry calls for.  Our Beauty Department are proud winners of 2 international awards CIBTAC Centre of the Year 2014 and CIBTAC Tutor of the Year 2015. You will also have the opportunity to take part in our Erasmus + Programme which will see successful candidates spend 3 weeks in Tenerife working in 4 and 5 star Hotels and Spas. Our Aesthetics course runs over one year and you gain extensive qualifications in all areas of beauty.
Duration
One year full time course
Course Outline
. Skin care, Eye Treatments & Make up
. Photographic & Fashion Make up
. Manicure, Pedicure & Waxing
. Gel Nails
. Facial Electrical Treatments
. Anatomy & Physiology
. Work Experience
(Course subject options available)
Students will also have the opportunity to take part in any additional add on courses throughout the year such as; Gel Nails, Spray Tanning ,Semi Permanent lashes and Dermalogica Skin Care Training.
Course Fees  
Please note that course fees are subject to change and the fee given is an approximate cost
Registration, Aesthetics kit and exam fees – €1,200
Entry Level
Leaving Certificate (5 passes) Biology or Home Economics Social and Scientific an advantage
Leaving Certificate Applied or Equivalent
Mature Applicants are welcome and will be considered on their merits
Progression
There is a fantastic opportunity here at LCFE to continue your studies on site on our Complementary and Advanced Beauty Therapy course.
Career Opportunities
There are a number of career opportunities on completion of our course. There is a huge demand for highly qualified facial therapists both nationally and internationally, with the additional option of self-employment. Opportunities exist in the following areas:
Beauty Salon
Spa Therapist
Nail Technician
Mobile Therapist
Salon Owner
Make up and Skin Care Consultant
Freelance Make-up Artist
Sales Representative
Additional information in relation to New Modules Added: 
CIBTAC Photographic and Fashion Make up
Our CIBTAC Photographic and Fashion Make up Certificate is recommended for students who have a natural flair and passion for make up as the unit is based on capability, knowledge and skill. It is perfect for those who have a major interest in make-up and who want to explore the idea of working professionally.
You will learn how to maintain effective health, safety and hygiene practice throughout the work place as well client care and communication.
This Certificate allows you to research and build your very own make up portfolio to include, Period, Catwalk, Fashion, High Fashion, Bridal, Commercial and Day Make Up.
If you have no previous beauty qualifications it is recommended that you complete our QQI 5N3466 Skin Care, Eye Treatments and Make up module. This will give you the foundation of knowledge you require in areas of anatomy and physiology, skin diseases and disorders, make up and lash application, brow shaping and tinting.
Students will also have the opportunity to take part in additional add on courses throughout the year such as; Spray Tanning and Semi Permanent lashes.
Course Fees
Please note that course fees are subject to change and the fee given is an approximate cost
Registration, Make Up Kit and Exam Fees €500 (government levy may be applicable)
Apply through Beauty Therapy Year 1
Course Coordinator
Jil Kelly Greene
Email: jkelly.tcl@lwetb.ie
https://www.flickr.com/gp/146646238@N05/B7D24r