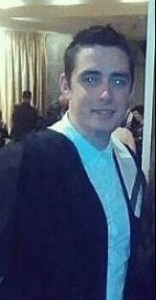 Fearghail Sheridan
Longford College of Further Ed. Business Studies 2015/2016
Bachelor of Arts Maynooth University
Professional Masters in Education in Business and Geography
I was a student of Longford College of Further Education in 2015/2016 where I completed the QQI Level 5 Business Studies course. I achieved distinctions in all of the 8 modules that I studied. This gave me the 390 CAO points (equivalent of 390 CAO points 2019) that I needed to move onto Maynooth University to start my Arts Degree in Business & Geography. I'm currently in my final year and the last month of my Level 8 Bachelor of Arts.
This week I received my offer to complete my Professional Masters in Education in Business and Geography at Maynooth University, starting in August 2019 which will qualify me as a Post Primary teacher in Business and Geography.
I was one who struggled with the demands of the Leaving Cert. and I didn't do well. LCFE gave me a fantastic opportunity to start over again and learn new skills (IT skills, assignment preparation, and working to deadlines) that were actually so valuable to me when I came to Maynooth, not to mention how valuable the 400 CAO points were to get me to Maynooth.
Throughout my studies here in Maynooth, I often reflect back and I am grateful to the staff of LCFE as if it wasn't for the staff helping me throughout the year, and going out of their way to make sure I was working to the best of my ability, I would not have achieved the good results and those CAO points that were my stepping stone to Maynooth.I have always said it to this day, that LCFE is the reason for where I am today in my education, and I will always be grateful. I plan to come back in September to give a talk to the current students on how important it is to attend every class and to work alongside each tutor. I will emphasise to them the opportunities that the course will open for them in terms of their education and the importance of sticking with it. I feel that many young Leaving Cert. Students don't realise how good the courses in LCFE are. I will be certainly advising any of my students in the future who are unsure on what they want to do, to go straight to Longford CFE.